The rich and famous aren't all that different from you and I, really – they put their pants on one leg at a time, require water and oxygen to survive, and some of them love to get down with some fishing. Here is a collection of famous people who fish (plus a somewhat less recognizable bloke, for pure entertainment value).
1. Michael Keaton
The Bird Man's principal residence is a ranch in Montana, so it should surprise nobody that Michael Keaton loves to fly-fish. He's been an avid angler for a very long time and, as he is wont to do, he can wax poetically on the complex parallels between this great sport and his primary profession, among other things. He has also worked with another great Montana transplant, Tom McGuane, as an advocate for the Bonefish and Tarpon Trust.
2. Clint Dempsey
Clint "Deuce" Dempsey, the striker and all around bad-ass for the men's US National Soccer Team and MLS side Seattle Sounders is a Texan through and through, up to and including a love of fishing for big bass. Professional soccer players – especially those with the talent to wear their national team's shirt – have an incredibly short off-season, but Clint's social media presence makes it clear that he is able to sneak away every now and again to torture some big-mouths.
3. Randy Moss
Over in the "other" football, the greatest wide receiver of all time, Rand, WV's own Randy Moss, is also an avid bass fisherman. Randy made plenty of time to fish during his playing career and as an analyst, helped engineer a fishing show disguised as an NFL season preview. Talk about a clever way to get a little fishing in!
4. Roger Daltrey
Roger Daltrey, front-man of the seminal rock band The Who, is not only an avid trout fisherman, but has owned a 26 acre fishing reserve of his own design for over 30 years. Daltrey, applying rock star stylings to the sport once said "When I go fishing, I come away feeling like I've smoked half a dozen joints." Bonus, see if you can spot the stylistically odd man out in the closing shot of this video.
5. Miranda Lambert
Ok, so given that she is a country music star who grew up in Texas, it's not exactly surprising that Lambert likes to fish, but angling is clearly a central part of her life, to the point that Lambert and her equally famous husband went bass fishing in Texas for their honeymoon. Lest you assume that Miranda is just tagging along with her husband, know that she isn't above solo trips, as well.
6. Tiger Woods
If you didn't know, what with all the water hazards, golf courses are great places to catch fish. Course managers have a vested interest in keeping those ponds looking nice and fish are part of the equation! This fact apparently hasn't escaped Mr. Woods who once said of the famous TPC Sawgrass "Largemouth bass. They're everywhere around here." Tiger has even had the rare pleasure of swinging flies for salmon in Ireland.
7. Tom Brokaw
Tom Brokaw probably knows more about the nooks and crannies of the NBC newsroom than any other person alive (or dead). On top of his mountainous accomplishments as a journalist, the man is that rare sort of accomplished fly angler who can entice a trophy bonefish on the flats on Tuesday before hucking streamers to enormous browns on the Yellowstone the next. He is also a devoted conservationist and one of the cast members of that rare gem: a high quality fishing television show.
8. President Barack Obama
Ok, in fairness, Mr. Obama isn't actually an angler – to our knowledge he has gone fishing exactly once, during a presidential trip to Montana. The trip to Gallatin River with guide Dan Vermillion of Sweetwater Travel, intentionally or not, made up for a minor campaign promise from back in '04 when then candidate Obama said that he'd like to try fly fishing someday.
9. Former President George Bush Sr.
One of the things Mr. Bush did after becoming newly… unemployed, was seriously upgrade his fishing game. Here he is with 135 lb. Tarpon. He's competed in fishing tournaments and has contributing greatly to fishing conservation efforts.
10. Tom Colicchio
Perhaps the most natural day job to angler connection on this list is chef Tom Colicchio. Colicchio, who rose to national prominence as the head judge of the hit show "Top Chef," parlayed his popularity into a web-based fishing show called "Hooked Up." It's a bit formulaic in the sense that it is a show hosted by a famous guy fishing with his famous friends, but Colicchio is an angler through and through and anyone who watches this will appreciate the way Colicchio cuts up with his friends as they pursue fishes far and wide.
11. Michael "Mickey" Melchiondo, Jr., aka Dean Ween
Mickey Melchiondo, the guitarist and co-founder of the amazing New Jersey rock band Ween is so serious about fishing that he now owns and operates his own guide service (That's "Captain Ween" to you, suckers). There are a lot of things to like about Mickey's various fishing pursuits, but what really tickles us here at The Hook Up is his obvious affection for his home waters. From his beloved Delaware Shad Run to stripers in Trenton, Mickey celebrates his backyard more than any other celebrity angler that we know of. Though, naturally, Dean can also be found fishing a wide variety of waters with other members of the far-out rock fraternity, such as Les Calypool and Larry Lalonde of Primus.
12. Dwight Howard
Back in 2013, while at the tail end of his contract with the L.A. Lakers, Dwight Howard (now with the Houston Rockets) outed himself as a fisherman. Like a lot of us, it would appear that Howard turns to angling as a stress relief;  after the Lakers were booted from the Playoffs by the Spurs in 2013, Howard wasted no time heading out on a fishing trip to Lake Tahoe – he even made a little time to go fly-fishing for the first time.. Similarly, during that same period, Howard utilized angling as a way to cool-out the pressure of selecting a new team as a free agent. No word on whether Howard has taken a shine to the legendary bass of Texas, but smart money is on "yes."
13. Kevin Costner
"If you cast it, they will bite" is a pretty damn good mantra for any angler and while that particular turn of phrase probably hasn't crossed Kevin Costner's lips (though he is a grandpa now, and that's sort of a grandpa joke…), the man clearly enjoys fishing. He was on the cover of Fly Rod & Reel back in '08, gripping a dandy bass and he has spoken wistfully of taking his grandchildren fishing. Incredibly, before striking it big in Hollywood, Costner even spent time working as a commercial fishermen! Quite the turn around for ol' Field of Dreams, but he clearly values his roots!
14. Jack Nicklaus
Another legend of the links who can't get enough of long rodding, Jack Nicklaus is a devoted fly fishermen. From bonefish in the Bahamas to trout in Alaska, Jack has covered a lot of ground. Plenty have taken notice, of course, and his commitment to the sport helped him become a spokesman for the Federation of Fly Fishers for a spell.
15. Jimmy Kimmel
Speaking of the conservation organizations, American Rivers recently named Jimmy Kimmel to their board of directors and in his public statement,  Kimmel cited his long time love of fly-fishing as the primary motivating factor behind his commitment to conservation. Keen watchers of Kimmel's show may have picked up on the occasional clue to his angling ways, such as the above video in which he wears a pair of (swanky!) waders during the ALS Ice Bucket Challenge. Kimmel also appeared on an episode of Buccaneers and Bones and performed admirably, bagging a dandy bone.
Check out our article: Jimmy Kimmel Loves Fly Fishing
16. Liam Neeson
Liam Neeson, famous for starring in roughly 300 films (good and bad), is an ardent fisherman. He has made five appearances on the Outdoor Channel's "Fly Fishing The World," and he tries to devote 2 months a year to traveling and fishing with his two sons. In a lesson suitable for all anglers, when asked how best to intimidate a fish, he answered with a single word: "Patience."
17. Michael Fassbender
Another impossibly handsome Northern Irishman, Fassbender was good enough to demonstrate his fly fishing technique (which, it must be said, he has put to use just one time) for David Letterman. It would seem Fassbender has a childhood history with angling, having grown up on a "sand bottom lake," though his excursions previous to the one in question were confined to the tried and true "worm and weight" technique.
18. Lindsey Vonn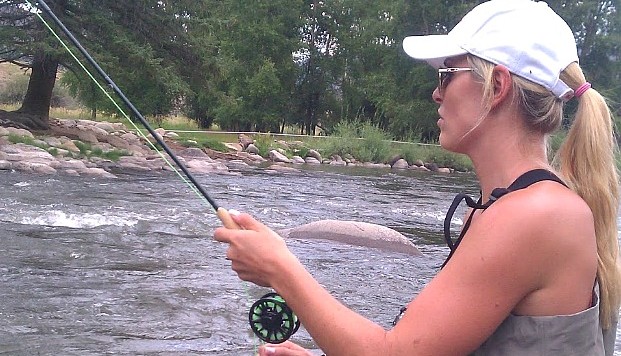 One can certainly fly fish in any geography they like (so long as there is water, anyway), but perhaps no terra goes more firmly hand in hand with the sport than mountains. It's no surprise then that Lindsey Vonn, one of America's most decorated alpine skiers, is an avid fly fisher. A self described "fish whisperer," Vonn maintains her competitive edge on the water. Always looking for a win, she even competed in the accuracy casting portion of the GoPro Mountain Games last summer.
19. Brian Urlacher
Brian Urlacher, the bald bull of Chi-Town, has shifted his attentions from crushing giant dudes on a football field to hauling in enormous fish from the deck of his boat. In homage to his days terrifying O-linemen, his boat is named "The Linebreaker" and if you find yourself in southern Florida, it's available to charter. Urlacher was, of course, one of the characters involved with Randy Moss' amazing and ridiculous foray into sports prediction/fishing referenced above.
20. Gunplay
Richard Morales, Jr., far better known as Gunplay, is a Florida born MC who came up (mostly) through the Maybach Music crew and is now signed to Def Jam. Like any self-respecting native Floridian, he also loves to fish. He loves it so much, in fact, that he has created a fishing video blog (currently spanning 4 episodes) that is equal parts absurd, bad-ass and hilarious. It probably goes without saying, but send your kids out of the  room and then check it out.
21.  Kyle Beckerman
Last but not least, Kyle Beckerman, the instantly recognizable defensive midfielder for the US National Team and Real Salt Lake loves fishing so much that he made sure to include it as a central theme to his engagement photos which, in the words of Deadspin, "are a treasure." No argument here.