The biggest confirmed fish ever caught on rod and reel belonged to Captain Frank Mundus, who was the inspiration for Captain Quint in Jaws. It was a 3,427 pound great white shark caught in 1986 that took him and a mate an hour and forty minutes before they put the first gaff in him, and then another hour before they were finally able to get a rope around the tail of this beast and start towing him back to port. This particular shark was caught 28 miles off Montauk, and only 18 miles from Block Island.
At 17 feet long, Frank's shark was the biggest fish ever caught on rod and reel. There was a bit of controversy over the catch, as some claimed that the shark was feeding on a whale while it was caught, which would have canceled out the world record. The International Game Fish Association reviewed the catch and deemed it legitimate. Unfortunately, in order to claim a world record from the IGFA it must be weighed on an official scale and measured meticulously. This time consuming process usually results in the death of the fish. This is a relatively antiquated process that has lost its appeal alongside the rise of catch & release fishing and conservation movements in the past couple decades. We at the Amberjack Journal don't support the unnecessary killing of any game fish, especially for the sole purpose of world record hunting.
However, it was 1986 and most anglers killed everything they caught. Captain Frank was no exception. He first marketed his business as a monster hunter, and took pride in stringing up a massive shark back at the docks after a long day on the water. His early shark catching methods including harpooning and killing whales just to use for chum. Later in life, Frank took on the catch and release ideology and became a shark conservationist, as did most anglers who used to kill everything they caught.
While this fish remains the recognized world record, Frank claims to have caught an even bigger shark that was estimated at 4500 pounds. The fish was never properly weighed so it couldn't be counted as a world record. Frank claims that it was this fish which served as the inspiration for Jaws. From Frank:
"I shot this picture from the flying bridge of my boat the Cricket II, looking down into the cockpit, as we were towing the fish home. My mate was holding up a Boston mackerel in the foreground to show size difference. It took five hand-held harpoons, four barrels and five hours for us to get a tail rope on her and start home. We caught this fish on June 6, 1964.
The events behind the capture of this fish helped influence author Peter Benchley to write the novel Jaws. For instance, we had motor trouble: our main saltwater intake cooling pump broke down and I was trying to replace it during the barrel chase."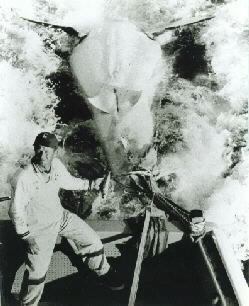 Here's a video of Frank Mundus talking about his world record catch on Letterman in 1986. He was known around the docks for his vibrant personality and his tendency to aggravate his clients and other captains, drawing parallels between himself and Captain Quint in Jaws. He was also well known for wearing these quirky Australian hats and a golden hoop earring.
Is Catch and Release Fishing Harmful to Sharks?
A replica of the shark hanging on the Lake Montauk waterfront