"Of all the questions which can come before this nation, short of the actual preservation of its existence in a great war, there is none which compares in importance with the great central task of leaving this land even a better land for our descendants than it is for us." – Teddy Roosevelt
I guess Teddy Roosevelt was right about protecting America's wilderness, and we at Amberjack thank him for it! Today marks the 100th anniversary of America's National Parks, so we made a list of the 10 national parks where you can find the best fishing. This list ranges from East to West Coast, and covers all different species of fish – from stripers to walleye to trout.
Glacier National Park, Montana
All of the parks on this list are beautiful, but Glacier National Park might take the cake for some of the most stunning scenery. Stark, rugged mountain scenes fade into the crystal blue rivers and lakes of northern Montana. This park is packed with trout of all shapes and sizes, but most anglers venture here to take a shot at the bull trout (or dolly varden), which boasts some of the best coloring in the trout world.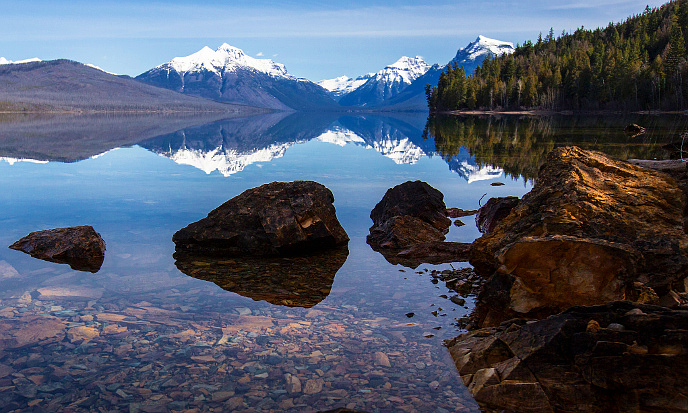 Yellowstone National Park, Wyoming/Montana/Idaho
Without a doubt one of the most trout-y parks on this list. Here, an angler can catch virtually every type of trout in one of the country's greatest environmental strongholds. Uninterrupted stream flows and native Yellowstone Cutthroats are what set this park apart. One of the largest parks in the US, the Yellowstone is relatively easy to get to and offers a variety of fishing options. If you want to fish high alpine lakes, big meandering rivers, slow-running meadow streams, or ice cold runoff springs packed with small but beautiful trout, Yellowstone National Park ranks pretty high on our National Park scale.
Everglades National Park, Florida
The Florida Everglades host an extremely unique ecosystem unlike the trout "infested" waters of the other parks on this list. The park protects the lower 20% of Florida's Everglades, offering a rare opportunity to see what a lot of Florida would have looked like before agricultural and industrial development. Here, an angler can chase peacock bass, tarpon, snook, redfish and more. This park is also relatively accessible, only a short drive from Miami airport. The park sees an annual visitation of more than 1 million tourists, offering clear evidence that protecting the environment can help the economy more than destroying it.
Great Smoky Mountains National Park, North Carolina & Tennessee
The fishing here is year round, and is centered around freshwater streams and rivers full of trout and smallmouth bass. The park contains almost 3000 miles of flowing water, and is one of the last places on the East Coast to catch a wild brook trout in it's native habitat. There are also ample opportunities to catch big rainbow and brown trout. Known for it's morning fog and rolling hills and valleys, the Great Smoky Mountains are a great place to cast a line. We have a few guides who know their way around.
Voyageurs National Park, Minnesota
This park is well known for it's big lakes, which are home to muskie, walleye, northern pike, small/largemouth bass, and lake trout. Voyageurs is a more user-friendly national park, which allows motors on the lakes and has multiple restaurants and other amenities for visitors to enjoy. That in no way takes away from the quality of the fishing here. Many Minnesotan anglers claim that this is the walleye capital of the world, not to mention the beauty of the lakes themselves, the surrounding forests, and the diverse wildlife.
Check out the story of Fly Fishing the Remote Lakes of Northern Minnesota, a story of big brook trout just to the east of Voyageurs. The Boundary Waters Canoe Area Wilderness neighbor Voyageurs, and are known for their remoteness and difficult accessibility. They also hold some monster brookies!
Acadia National Park, Maine
Acadia offers both saltwater and freshwater fishing. Within the park itself, an angler can catch brook and brown trout, as well as landlocked salmon. Fishing for small and largemouth bass and yellow perch is also possible in some of the park's lakes and ponds. On the coast, a fisherman can cast into the surf off Maine's iconic rocky coast, with the opportunity to land stripers and bluefish. You'll need all your gear to fish here!
Olympic National Park, Washington
The Olympic National Park in Washington protects over 70 miles of pristine Pacific coastline, as well as over 4000 miles of streams and rivers. The Pacific Northwest is nothing like it used to be after the construction of so many dams and overfishing, but the Olympic National Park offers a little insight into how things could be. Within the park, an angler can experience salmon, steelhead, and char runs like nowhere else in the PNW. We have a few guides who can show you the way.
Zion National Park, Utah
Located in Southwest Utah, Zion is most well known for it's red canyons and heavenly vibes. The park's unique ecosystem and geography allow for a wide diversity of plant and animal life, and the streams and rivers are full of trout. Most species of trout can be found here, but there are also largemouth bass and other fish in surrounding reservoirs. As with most national parks, the water flow in Zion is completely uninterrupted by human interference, so fishing here allows an angler a unique insight into what the American West would have been like centuries ago.
Biscayne National Park, Florida
Only minutes from downtown Miami, Biscayne Bay is a go to spot for anglers. Here, a fisherman can target some of saltwater's most sought after species – including permit, bonefish, and tarpon. The park protects an area of Florida that has often been sought after for development. It's expansive mangrove forest is a nursery ground for hundreds of different species, including juvenile tarpon and snook. Most of the park is only accessible by boat, so if you want to fish here it would be a good idea to hire a charter or a guide out of Miami.
Padre Island National Seashore, Texas
Located at the southern tip of Texas on the border with Mexico, South Padre Island is a barrier island for Texas's west coast, meaning that there are good options for inshore and deep sea fishing. The small strip of land protects an inlet, which is teeming with redfish, flounder and trout. A few miles offshore, an angler can motor out into the Gulf and hook into marlin, sailfish, and tuna. If the fish aren't biting in one area, you can simply pull up anchor and cruise to find a new species.
The fishing season in South Padre Island is year round, with the average winter low at around 52 degrees. The sub-tropical climate causes many fish to stick around all year, especially the redfish and seatrout. Bigger billfish like the marlin and sailfish are migratory, but are caught frequently in the waters off South Padre Island.
*Make sure to consider the rules and regulations of fishing in each National Park, as the park fishing guidelines may be different than the state's.